THREE NATIONAL PARKS IN TWO OR THREE DAYS
Take on the ultimate helicopter tour of the top end. In 2 days you will see more, experience more, and cover more ground than you would in a week by road. 
Discover Kakadu, Nitmiluk and Litchfield National Parks. 
This high end, all-inclusive, quality tour takes you deep into the heart of Kakadu, Nitmiluk and Litchfield National Parks over two days providing breathtaking views of the ancient Wetlands, Rock Country and high Escarpments of the region. We land to enjoy a magnificent Aboriginal Rock Art Gallery, the famous Yellow Water Cruise and the Nitmiluk Gorge Cruise. This helicopter trip has it all…
Itinerary We pick you up from your hotel at 7.30am for departure by helicopter at 8.00am, heading east over the vast wetlands of the Adelaide River and Mary River systems and Alligator River systems of Kakadu, viewing wildlife such as Buffalo, Pigs, Birds and Crocodile. Our first landing is in Arnhem Land near the East Alligator River at an ancient Aboriginal Rock Art gallery with exclusive visitation permission of the Traditional Owners to Airborne Solutions.
We depart the art site heading up stream on the majestic East Alligator River and into the endless rock country of the Kakadu/Arnhem Land boundary to Magela Falls and onto Jabiru for fuel.

Once fuelled up it's only a short hop to Cooinda and a buffet lunch. Following lunch, relax on a 1.5 hour Yellow Water boat cruise, getting up close to the flora and fauna of the Kakadu Wetlands.
Following the cruise we head for the heart of Kakadu and the vast escarpments to overfly Jim Jim and Twin Falls and the spectacular southern rock country of the park including the upper South Alligator River. Leaving the northern river catchment area behind, we head south into the catchment of the Katherine River and Nitmiluk (Katherine Gorge) National Park. We take in the view of the 130 million year old Nitmiluk Gorge before landing for dinner at the award winning Cicada Lodge.
Day 2 starts with a relaxed breakfast and time for a walk through the park before joining the 11.00am 2 hour Gorge cruise. Following the cruise and an early lunch we head north-west for Tipperary Station for refueling and on to Litchfield National Park, where we overfly the spectacular waterfalls and magnetic termite mounds and then on to the Finniss River Wetlands and Crab Claw Island for a break and a drink before returning to our base via Darwin Harbour at approx 4.00pm.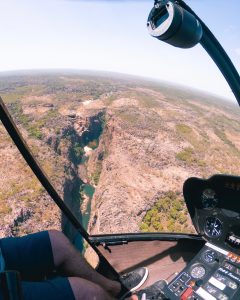 This is a magnificent trip, with so many Territory highlights all rolled into one. If you click the book online button you will find many upgrade options to truly complete your Top End experience. If you have more time, try the Three National Parks in Three Days and customise your own tour.
ADD A DAY – Three National Parks in Three Days
Take your time and add a day to make it 3 National Parks in 3 days. This is an overnight stay in Kakadu National Park at Gagadju Lodge Cooinda. Relax by the pool or explore the surrounds at Cooinda and visit the Warradjan Cultural Centre.
This upgrade follows the same itinerary as the 2 day tour, however we pause in Cooinda, allowing you time to slow down and really immerse yourself in Kakadu. We arrive around lunchtime and  normally we would book you on the 1.15pm Yellow Water Cruise, however you can now choose your tour time and from the following add ons. You also have the option to leave a little earlier and arrive in Nitmiluk for the Sunset Dinner Cruise or be up bright and early for a Dawn Tour. Please note: if you choose a breakfast or dinner cruise this will replace the dining options for that particular mealtime included in the original package.

Yellow Water Cruise times – (included in cost) 6.45am (2 HR), 9.00am (2 HR), 11.30am (1.5 HR),  4.30pm (2 HR Sunset), 4.30pm (2 HR Taste of Kakadu, Yellow Water Canape Cruise)
Nitmiluk Gorge Cruise Options (included in cost)
Standard 2 Gorge cruise- departing at 9.00am or 11.00am (2 HR)
Dawn Tour – departs at 7.00am and includes tea and coffee and a breakfast snack prior to departure. This is a 2 hour / 2 gorge cruise.
Nabilil Dreaming Sunset Dinner Tour – departs at 4.30pm and includes a 3 course meal and a complimentary glass of sparkling. Drinks are available for purchase and this is a 3.5 hour / 2 gorge cruise.
Please note: This tour is designed to showcase the most spectacular sights in each National Park. The itinerary is, by design, fully customisable. 
Please click here to see our frequently asked questions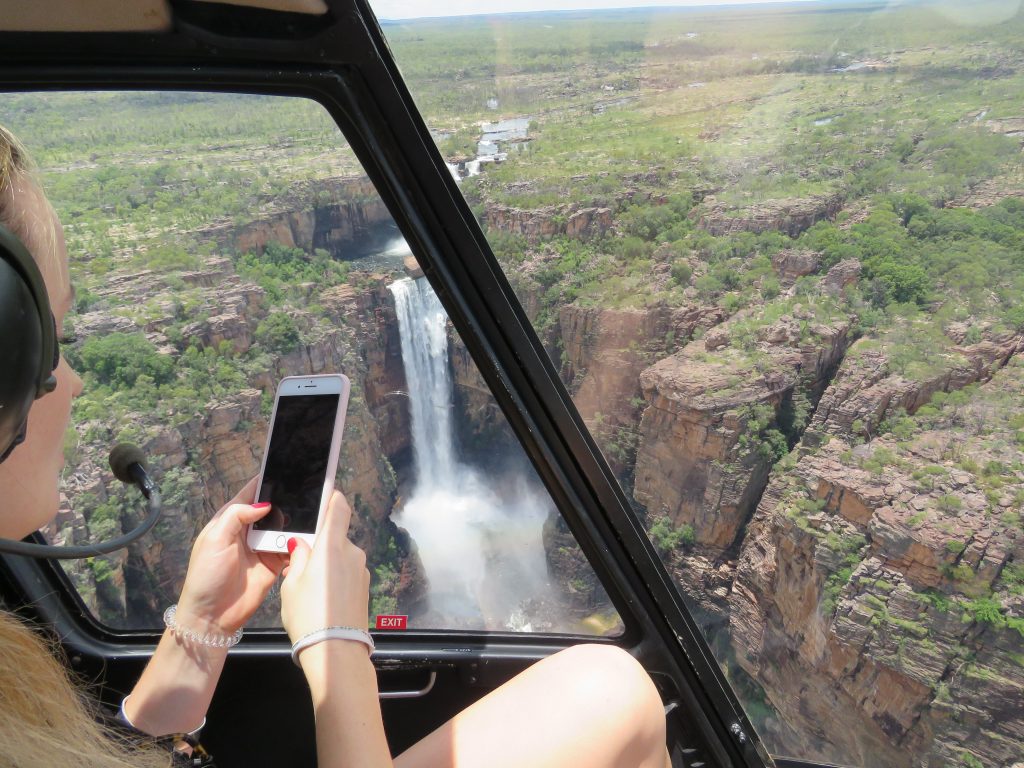 Duration
2 Days
Cost
$4635 pp *
*cost is for minimum 2 people (subject to 250kg combined passenger weights)
Includes
All Transfers ( Darwin pick up and drop off, Cooinda and Nitmiluk)
Helicopter scenic flights over Kakadu, Nitmiluk and Litchfield National Parks.
Yellow Water boat cruise
Nitmiluk Gorge cruise
All meals and snacks - water and soft drinks
Chalet Accommodation at Nitmiluk National Park
Soft drinks and water at Crab Claw Island
Royalties and fees
Upgrades
Cicada Lodge Nitmiluk - Accommodation upgrade for 2 people
Cost: $700
"Add a Day" Upgrade
This includes a standard room, 3-course dinner with a bottle of wine, buffet breakfast and lunch at either Cooinda Lodge or the Sugarbaq Cafe at Nitmiluk National Park.
*With the extra time the "add a day" upgrade allows, you can mix and match the inclusions and also add some exciting extras like Yellow Water Fishing. You can also choose your Yellow Water Cruise times to take advantage of the sunrise or sunset. - See below the itinerary for more options...
Cost: $1200 pp
Many More Tours To Choose From