DARWIN HELICOPTER SPECIALISTS
Airborne Solutions, also trading as Darwin Helicopter Tours, conducts specialist scenic tours and adventure experiences throughout the Northern Territory.
Tours are currently conducted over Darwin, Arnhem Land and Kakadu, Litchfield and Nitmiluk National Parks.
Airborne Solutions is a well known NT aerial work specialist. The company's Managing Director Clinton Brisk has over 30 years helicopter flying experience in all facets of low level aerial work including; stock mustering and aerial agriculture, underslung loads, aerial culling, fire bombing, incendiary dropping, filming, photography, Police ops and more.
Safety and Service, Airborne Solutions.
TOUR OF THE MONTH - KAKADU WATERFALL TOUR!
There has never been a better time to witness the sheer force and magnitude of the Kakadu Waterfalls after a bumper wet season. Jim Jim Falls is truly a sight to behold, from a helicopter with the doors off!! For more information and to book your tour click here... Kakadu Waterfall Tour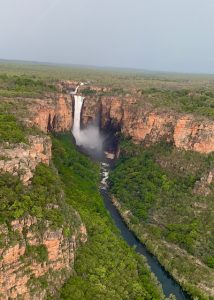 SPECIAL OFFER FOR TERRITORIANS - Round 3
There's no better time to explore our amazing Top End backyard by chopper with the release of the 3rd round of the Territory Tourism Voucher! 
Have you ever said to yourself, "I'll do it one day"? Well that day is finally here...
From 8pm on Monday 1 February, Territorians can go online to register for their $200 voucher, redeemable on a $1 for $1 basis. Importantly for round 2, vouchers will only be valid for 14 days from issue of voucher (not 30 days). 
Register today for your Territory Tourism Voucher to go towards your heli adventure and for every dollar you spend at the local visitor centre it will be matched up to $200! This round also offers a bonus claim of up to $200 when you travel 400kms or more!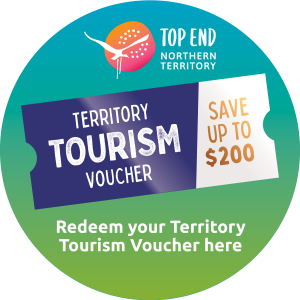 Yes, you read correct... HELI PUB CRAWL! Voted one of the TOP 10 things to do in Darwin and the Top End.
A MUST for locals and visitors alike...
The helicopter delivers you into Kakadu from Darwin in safety and comfort with exceptional birds-eye views.
(Road times average three hours each way).
Let us guide you on the fishing adventure of a lifetime, taking you to the Top End's most secluded and treasured fishing spots.
Truly escape to remote fishing locations...
Highly Recommend!
By far the best website and service for any helicopter company I've ever dealt with. They arranged a pilot when they were fully booked and I had given them 2 days notice. Our pilot Drew, was very informative and gave us local knowledge and some great croc stories! They arranged for ear muffs for my young daughter and greeted us with chilled water on arrival. They have so much information on their website along with time frames and rates that made it so easy to decide which package suited our needs best. We booked a jumping croc tour up the Adelaide River and did a city scenic loop after. Highly recommend booking with this company and I cannot wait to go back to Darwin to try out the Pub Crawl and Heli Fishing!
Best Way to do KAKADU! Once in a lifetime experience...
Roy our pilot was so professional and gave the right blend of information and peace and quiet. Never felt rushed. Amazing scenery and private visit to rock art gallery that was such a privilege and that you just can't access any other way. Flying over stone country and wetlands is a once in a lifetime experience to see wildlife and landscapes.
Plenty of time on river cruise and lunch to relax. Finished with Goat Island "pub" visit was also a fun way to end the day. If you can afford it don't hesitate-weigh up your drive time and entry fees - it is all inclusive except a drink in the pub which was priceless!