Litchfield National Park One of the Top End's most popular natural treasures is a sight to behold by Helicopter.
Litchfield Waterfall Tour
A favourite destination for locals and visitors alike, this tour provides you the opportunity to view Darwin City, Darwin Harbour and the vast Aboriginal Islands of Bynoe Harbour by helicopter before landing at Crab Claw Island Resort for drinks.
We like to build the suspense for the next leg of the flight which takes you over the Finniss River Wetlands and then the spectacular waterfalls of Litchfield including the wonderous sights of Tolmer, Wangi and Florence Falls along with the Cascades.
On the return trip to Darwin we land at the Darwin River Tavern for refreshments.
This tour departs at 8.00am or 1.30pm. If you're a morning person, why not opt for an early start and have breakfast at Crab Claw Island and if you'd like a little more adventure, why not add the Sandy Creek upgrade and make a day of it!
Add a Private Swim at Sandy Creek Falls
Take your Top End adventure to a whole new level and add a private landing and swim in the rock pools  of a secluded waterfall. Advance bookings only (Need at least 48 hours notice and it's subject to availability) - $150 per person (1 hour).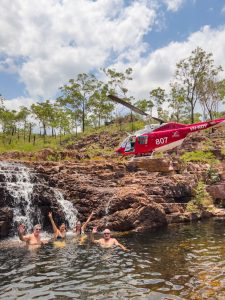 Litchfield Swim & Resort Tour
Departing from Darwin, our first stop is at Crab Claw Island Resort, where you can enjoy the beach vibes and a drink before we take off again. Overfly Litchfield National Park waterfalls and land at Sandy Creek Falls where you can cool off in the rock pools and explore this secluded piece of paradise.
Next, we fly to Lake Bennett, where we stop for lunch at De Lago Resort. You can also go for a swim in the lake or utilise their canoes or fishing equipment.
The last pub of the day is the famous Goat Island Lodge, located in the Adelaide River, spot crocs, buffalo, pigs and brumbys on the way.
This tour departs at 9.30am and returns at approx 4.30pm. Advance bookings only (Minimun 48 hours notice and subject to availability)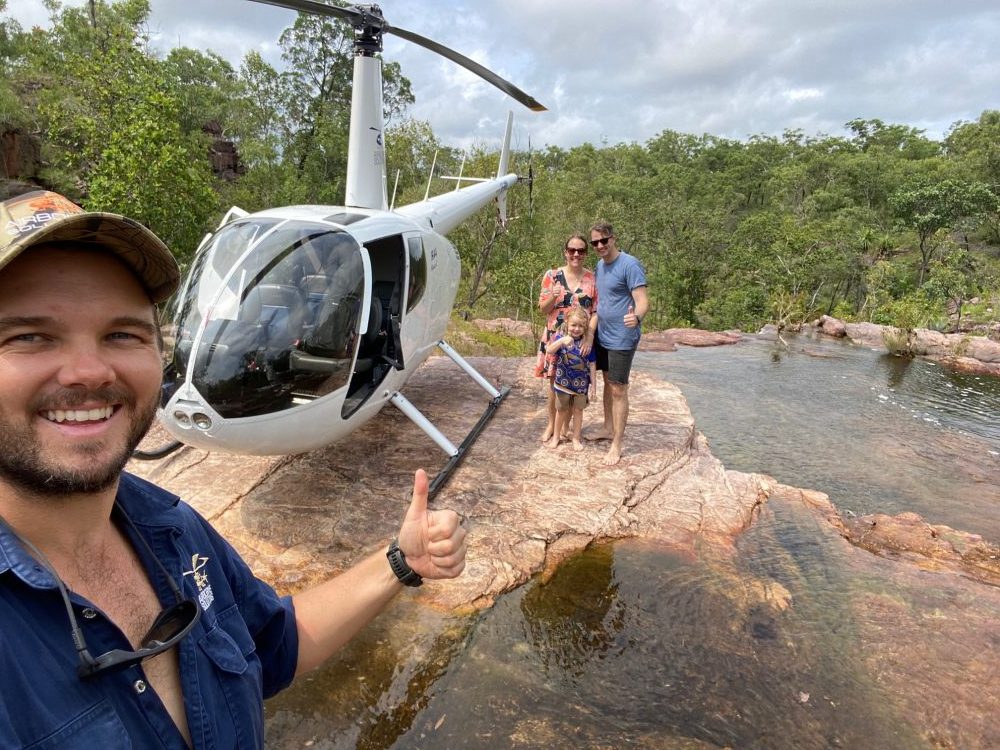 Litchfield Fly & Swim Tour
This tour is just as it sounds, a flight over the spectacular Litchfield National Park and a swim at one of the Falls. It is also a popular option for marriage proposals.
Departing Darwin, we head straight for Litchfield National Park where we overfly the popular Wangi Falls, Tolmer Falls and the Cascades before landing at Sandy Creek Falls for a private swim in the rock pools (1 hour). We fly over Florence Falls on the return leg to Darwin.
This tour departs at 9.00am or 1.30pm.
Advance bookings only (We must have at least 48 hours notice and it's subject to availability)
---
What you need to know...
Please arrive half an hour prior to your departure time.
We do not provide hotel transfers, we are conveniently located approx. 10 minutes in a Taxi or Uber from Darwin City.
Our booking system is on request only, if you would like to check our availability please call the office on 0429 775 555.
Please click here to see our frequently asked questions
Litchfield Waterfall Tour
Duration: 3.5 Hours
Cost: $1040 per person*
*Cost is for minimum 2 people
Upgrade: Add a Private Swim at Sandy Creek Falls $160 pp
Litchfield Swim & Resort Tour
Duration: 7 hours approx
Cost: $1310 per person*
*Cost is for minimum 2 people
Litchfield Fly n Swim
Duration: 3 hours approx
Cost: $1100 per person*
*Cost is for minimum 2 people
Many More Tours To Choose From