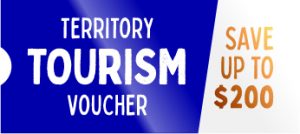 Register now and redeem your voucher from 1st July 2020. Vouchers must be booked within 30 days of issue, and used by 31st October 2020.
Territorians aged 18+ are able to register and redeem their Territory Tourism Voucher by visiting territoryvoucher.nt.gov.au.
Voucher holders can book online, over the phone or in person through their local visitor information centre in Darwin.
Territorians are encouraged to register early as vouchers are limited. Vouchers are valid for 30 days only. Voucher bookings and travel must be completed by 31 October 2020.
For every dollar you spend at Tourism Top End it will be matched up to $200.
Can be used for all Airborne Solutions' tours including Heli Pub Crawl, Heli Fishing, Darwin's Big Day Out and the Kakadu Day Trip...For the full list of tours click here!
For more information please read the Frequently Asked Questions fact sheet.