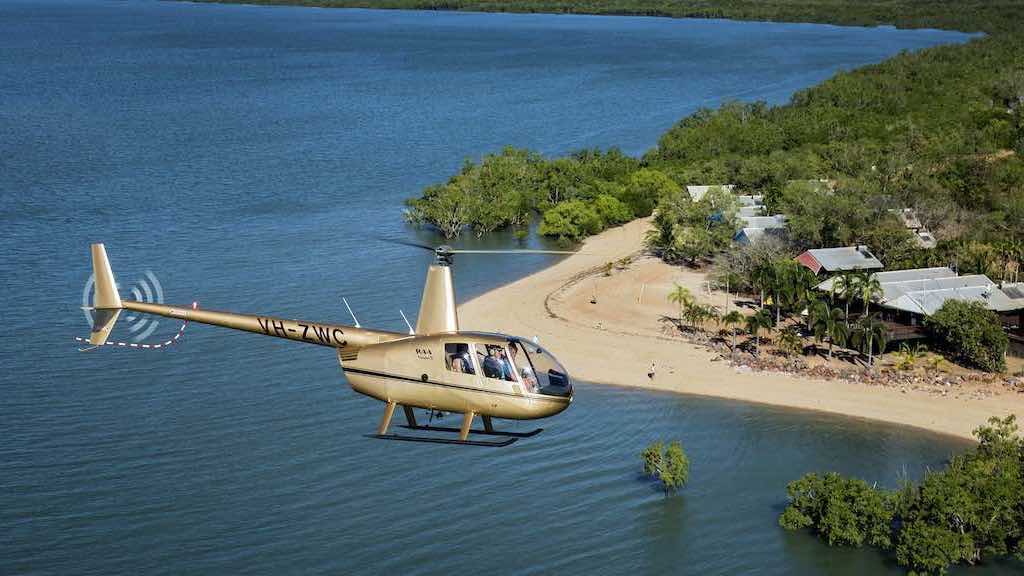 The Original Heli Pub Crawl – Voted one of the Top 10 Things to Do in Darwin and is one of Top 5 Tipsy Trips of Get Lost Magazine! An absolute must for locals and visitors alike!
Yes, you read that right! A pub crawl by Helicopter… Airborne Solutions have offered this unique tour since 2007. Over the years it has evolved into the Heli Pub Crawl it is today. A 5 pub, 7 hour extravaganza that you'll never forget (no matter how much beer you sample at the pubs).
In all seriousness though, it is not just about the pubs. This tour will provide an amazing look at Darwin and surrounds from above. The harbour and coastline, tropical savannah woodlands, cathedral and magnetic termite mounds, billabongs and creeks.
It's a Pub Crawl like no other, where we arrive at iconic outback watering holes with a rock star landing in your very own helicopter. As a result, you will be sure to hear your fair share of tall tales and meet interesting critters. Relax with the laid back locals and get to know the charismatic publicans that define each of the establishments.
The Pubs
We visit the following pubs in order: The Lodge of Dundee, Crab Claw Island Resort, Darwin River Tavern, Goat Island Lodge and The Noonamah Tavern.
To visit all of these pubs in 1 day by road would take you over 360kms and you will need a boat to get to Goat Island Lodge because it is an island located in the Adelaide River. You will also need a designated driver so you can enjoy a beer or 3 at each pub! On a Heli Pub Crawl you get your own designated pilot and can take an 'airy' with you on the chopper between pubs (you know, the equivalent of a roadie if you were pub crawling by car or bus).
So what are you waiting for? Round up your mates. Ask about group bookings. More information here